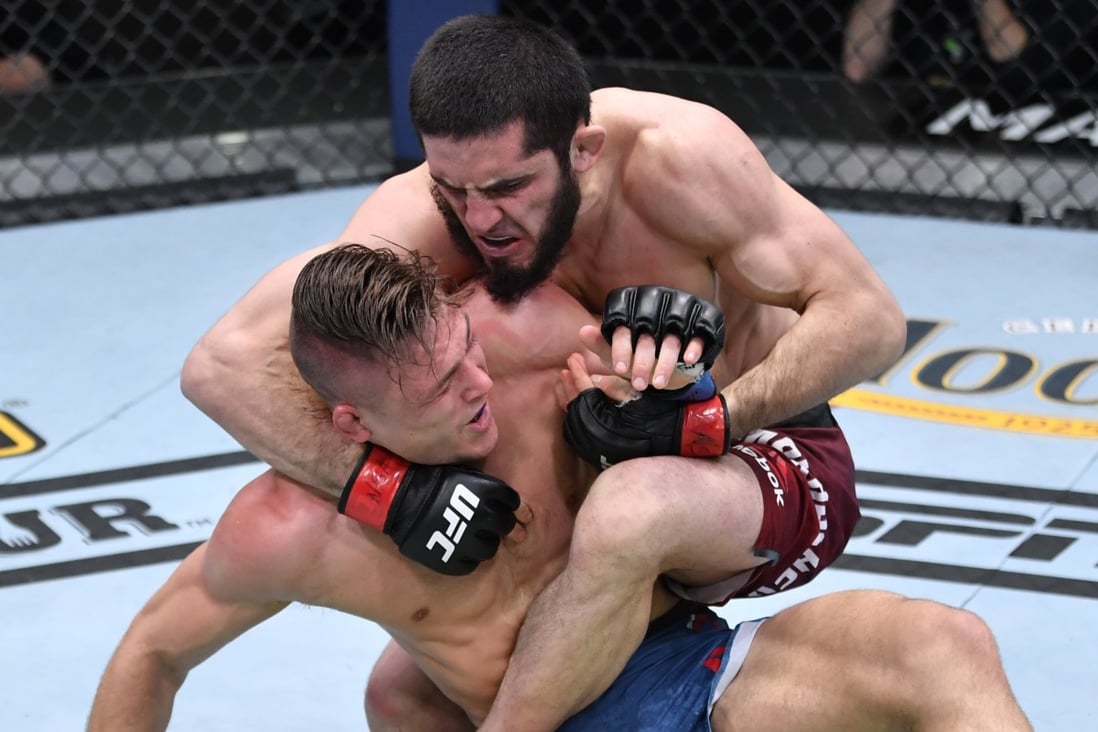 Often hailed as the second coming of the greatest lightweight of all time, Khabib Nurmagomedov. Islam Makhachev is making his own name in the UFC, and is quickly becoming one of the most exciting fighters in the UFC lightweight division. A division packed with amazing fighters and big names.
Currently Makhachev is sporting a professional record of 20-1. Makhachev is an assassin in the Octagon. The former European, Russian, and World Combat Sambo Champion stands at 5ft. 10 in. and weighs in at 155 pounds. Makhachev has a reach of 70.5 inches. Makhachev Currently fights out of the AKA gym in San Jose, California. Makhachev is coached by Javier Mendez and Khabib Nurmagomedov, and was formerly coached by Khabib's late father, Abdulmanap Nurmagomedov.
Makhachev was born in Makhachkala, in the Republic of Dagestan, Russia. He was born on September 27, 1991 and is 29 years old. Makachev is of the muslim faith, and was raised in a muslim community in the village of Burshi. Growing up Makhachev was seen as a weak person by his peers which led to Makachev being picked on by them. This perceived weakness was the catalyst for Makachev to become a stronger individual. He started doing many grueling activities to become stronger. These activities included lifting rocks and climbing up mountains in his native Dagestan. Growing up Makachev was a neighbor to Khabib Nurmagomedov and the two grew up together and formed a friendship and working relationship like no other.
Makhachev realized how skilled of a fighter he was after winning an amatuer combat sambo competition. Makahchev then decided to move to MMA. He made his premier in MMA in August of 2010 with a bout in the ​​Tsumada Fighting Championship 4. After going undefeated in his first few fights Makachev signed a 4 fight deal with the UFC in October of 2014. His first fight in the UFC was in May of 2015, Makhachev won the bout against Leo Kuntz at UFC 187. Unfortunately Makachev wasn't as lucky in his next bout as he lost against Adriano Martins by knockout in round one. Since then Makachev has been on an eight win streak. With wins over big names, Thiago Moises and Drew Dober.
Makachev is on a clear path to being one of the next champions in the Lightweight division. Ranked at number five in the division as of September 2nd 2021. It'll be exciting to see what's next for the fighter as he's on a clear upward trajectory.
KEEP MMA AFICIONADO GOING!
KEEP MMA AFICIONADO AFLOAT WITH A ONE TIME TIP. WE WORK HARD TO PROVIDE QUALITY CONTENT AND WOULD APPRECIATE ANY HELP!