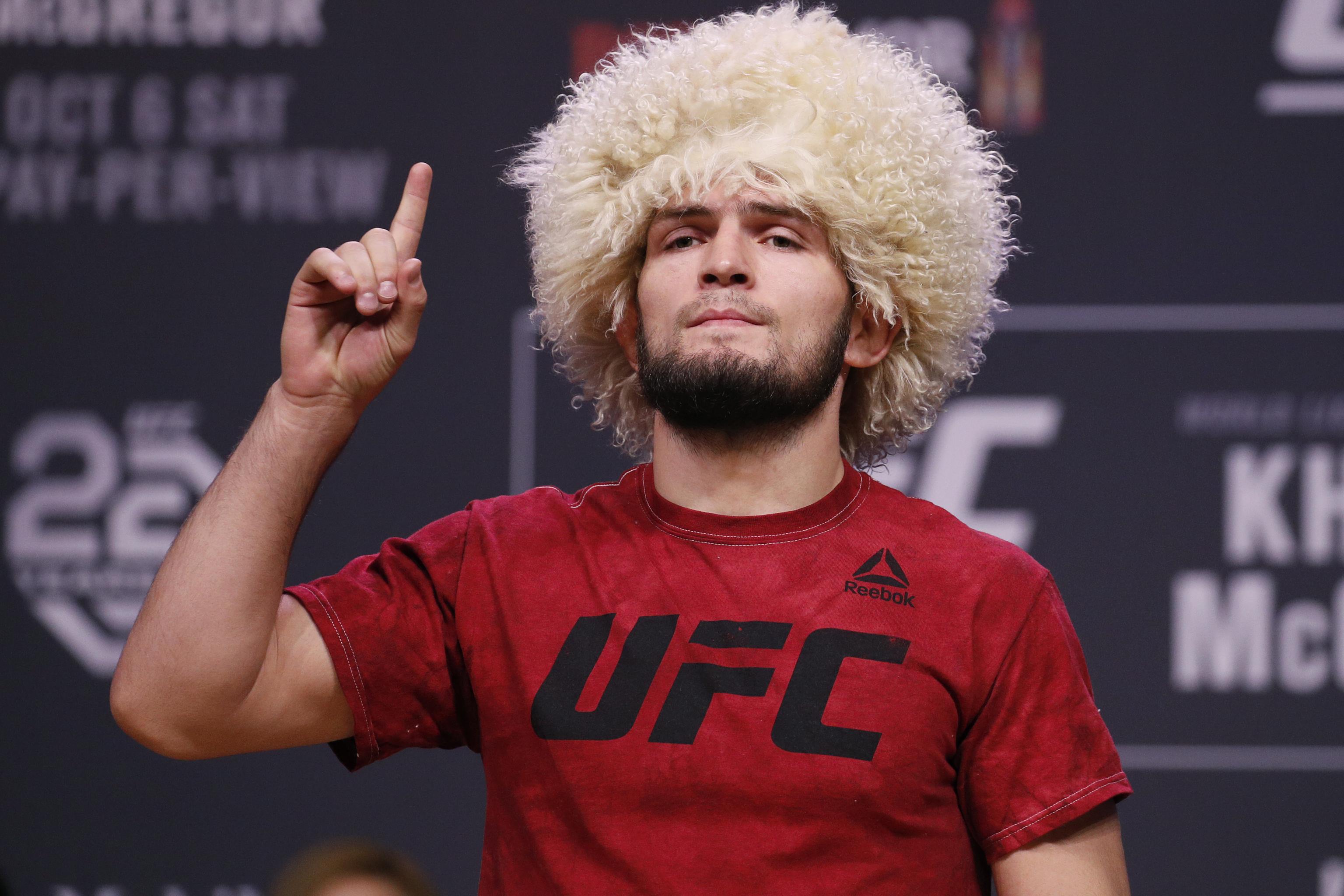 Since his time away from the sport Khabib Nurmagomedov has made a name for himself as a coach.  But before he was a coach, Nurmagomedov had an amazing career as a fighter.  Nurmagomedov was undefeated in his time in the cage and retired on top as the UFC Lightweight Champion. Nurmagomedov embodies what it means to be a martial artist, and his emphasis on technique and fight IQ will be studied by fighters for years to come. 
Nurmagomedov was born on September 20, 1988 in the village of Sildi, Dagestan ASSR, Russian SFSR, Soviet Union. Nurmagomedov started wrestling, as his father was involved in the sport and owned a wrestling gym. Nurmagomedov's father, Abdulmanap Nurmagomedov was also a wrestler and was trained in Judo and Sambo while in the Soviet military. Abdulmanap made training Khabib's peers and other Dagestani youth his life mission, and was hopeful that introducing young athletes to the sport would give Dagestani youth an outlet to not get involved with islamic extremism that is very common in that area of the world. Abdulmanap's methods were unique however, and included purchasing a bear for young Khabib to wrestle with. 
 Nurmagomedov started training in Judo and Sambo additionally starting at age 17.  Nurmagomedov was in many street fights in his teen years but stopped after focusing mostly on the sport of Mixed Martial Arts.  Nurmagomedov started his MMA career at the age of 19 with a win against Vusal Bayramov by Submission (triangle choke) for the CSFU: Champions League promotion. From there Nurmagomedov would fight in many promotions, and would gain an impressive record of 16-0. This impressive record would lead to Nurmagomedov getting a shot in the UFC. 
 Nurmagomedov would make his UFC debut  against Kamal Shalorus on January 20, 2012 and would secure a victory via Submission (rear-naked choke.) Nurmagomedov would face his first real challenge in the UFC when faced future lightweight champion, Rafael dos Anjos he won by decision. Nurmagomedov would face next big challenge when he faced Edson Barboza at UFC 219. This victory would secure a UFC title shot for Nurmagomedov.
Nurmagomedov would face Al Iaquinta at UFC 223 where he'd win the vacant Lightweight title. This would lead Nurmagomedov to the biggest fight of his career against The former Featherweight and Lightweight Champion, Conor McGregor.  Nurmagomedov would win by Submission (neck crank.) This would lead to Nurmagomedov jumping over the cage and retaliating against McGregor's team for the bus incident. Nurmagomedov would defend and unify his Lightweight title twice against his two toughest opponents yet with victories over interim Champions Dustin Poirier  and Justin Gaethje. 
Nurmagomedov announced his retirement after his victory against Justin Gaethje due to the death of his father who passed away because of the Covid-19 pandemic. Since his retirement Nurmagomedov has made quite the name as an MMA coach. Nurmagomedov embodies what it means to be a martial artist, and his emphasis on technique will be studied by fighters for years to come.
KEEP MMA AFICIONADO GOING!
KEEP MMA AFICIONADO AFLOAT WITH A ONE TIME TIP. WE WORK HARD TO PROVIDE QUALITY CONTENT AND WOULD APPRECIATE ANY HELP!