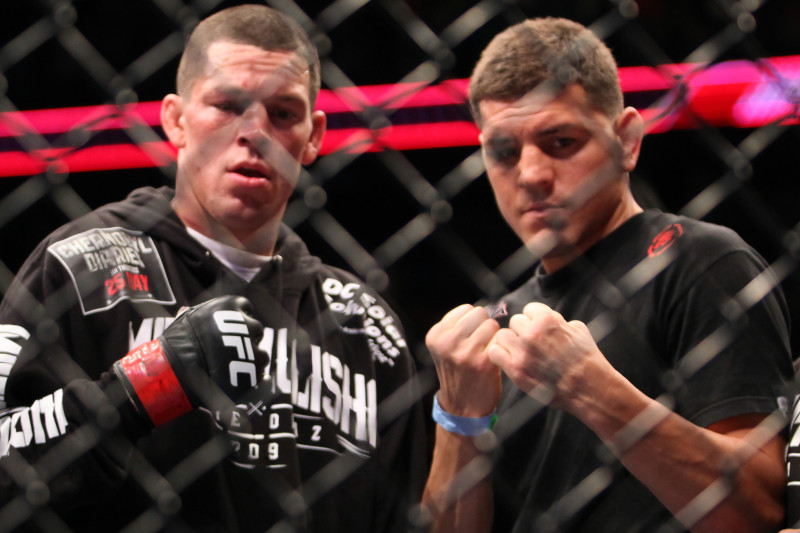 Over the last few months we've seen some amazing fights in the UFC Octagon. From new up in comers like Paddy the Baddy to old fan favorites like the Diaz brothers. We first saw Nate Diaz make his re-arrival in the Octagon in June of 2021 marking his first appearance in the UFC octagon since before the pandemic. We then saw Nick Diaz make his return to the octagon in September at UFC 266 where he took on UFC veteran Robbie Lawlwer and lost in the third round. It was really good to see both of these fan favorites make returns to the octagon even if they weren't triumphant returns. This makes one question what is next for the two Stockton natives. 
Nate Diaz has two fights that fans really want to see. The first would be the final fight in his trilogy with Conor McGregor. McGregor just wrapped up his trilogy with Dustin Poirier losing two consecutive fights to Poirier. This would be a great matchup for the two fighters as Diaz lost both his last two fights also so they both need wins. This trilogy would also sell a lot of PPV's so it's really a no brainer for the Promotion to entertain this fight.
The other fight that fans would love to see would be a rematch of the 'BMF' title between Diaz and Jorge Masvidal. Masvidal has also lost his two last fights which happened to be title fights against Kamaru Usman at UFC 251 and 261. This again is a no brainer for the promotion as the original BMF title was won by TKO (doctor stoppage.) So fans would flock in droves to the venue and to buy the PPV event if it were to go down. 
Nick Diaz has two interesting fights that fans and fellow UFC fighters are throwing out there for him. The first would be to fight UFC veteran Matt Brown. Brown is coming off a win against Dhiego Lima. Brown is a UFC veteran and has been with the promotion since 2008. The other Fight that fans have speculated about would be a matchup against Donald 'Cowboy' Cerrone. Cerrone is coming off a loss against Alex Morono. Cerrone and Diaz are both on the tail end of their careers so it'd be great to see these UFC veterans duke it out in the Octagon. 
It'd be great to see the Diaz brothers return to their winning ways. These two fighters have amazing skills and are fan favorites. Hopefully they keep fighting till the wheels fall off.
KEEP MMA AFICIONADO GOING!
KEEP MMA AFICIONADO AFLOAT WITH A ONE TIME TIP. WE WORK HARD TO PROVIDE QUALITY CONTENT AND WOULD APPRECIATE ANY HELP!