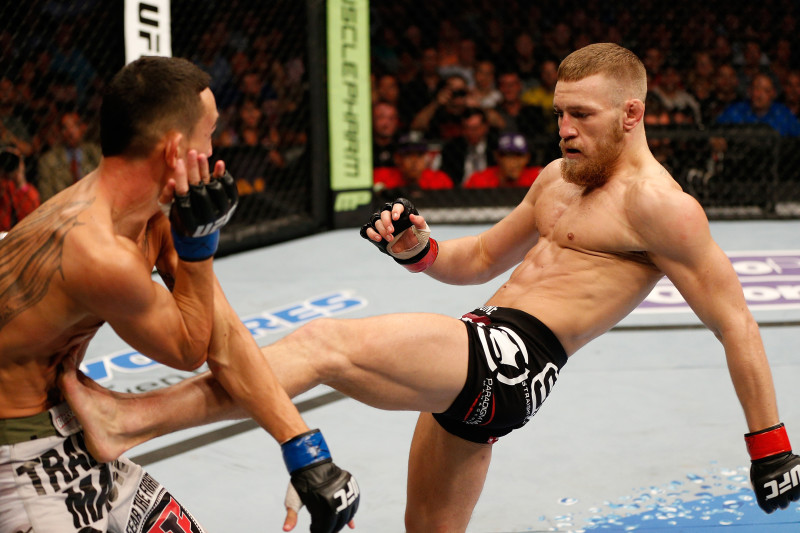 Conor McGregor is the biggest star in MMA and is subsequently one of the most polarizing stars in the sport. The former two division champ has fought a who's who in both the Featherweight division and in the Lightweight division. Although it seems like his better days are behind him there are some great fights that could be made for the former Champ-Champ.
Conor McGregor Vs Islam Makhachev
It's no mystery to anyone that when Khabib Nurmagomedov said he was retiring that he definitely meant it.  Nurmagomedov has taken up coaching to fill his time in retirement. One of his best fighters that he is coaching is Islam Makhachev. Makhachev has a dominant ground game, reminiscent of Nurmagomedov. It would be an interesting match up with Makhachev trying to take McGregor down and McGregor trying to keep the fight standing where he can use his fists to try to secure a knockout. This seems like a great fight and the UFC would find masterful ways to sell this fight because Makhachev's camp and McGregor's camp definitely don't like each other.
Conor McGregor vs Tony Ferguson
One of the biggest stars in the promotion who's also been on a losing skid as of late is Tony Ferguson. Furgeson has been calling out the Irish fighter since McGregor was down at 145 pounds. Since then McGregor has moved up to 155 pounds and has won the belt in the 155 pound division, boxed Floyd Maywether, and fought Khabib to try to win the belt again and lost. Conor. Ferguson has also had the belt in the lightweight division but it was only an Interim belt. It'd be great to see these two fan favorites go at it, and Tony Ferguson getting his very own 'red panty night.'
Conor McGregor Vs. Max Holloway II
In 2013 these two fighters met in the UFC Octagon and Conor put on an impressive performance against Holloway to get the win via decision. Since then Holloway and McGregor have both become UFC Champions with Holloway defending the Featherweight belt on multiple occasions only losing the belt to current champion Alexander Volkanovski in 2019. This would be a great rematch that I think people would love to see.
Conor McGregor vs Jorge Masvidal
Jorge Masvidal has an interesting resume with fights he's definitely had some amazing bouts including two title fights against current Welterweight champion Kamaru Usman and a semi championship fight for the BMF belt with Nate Diaz. Masvidal hasn't really had a big money fight like the Paydays associated with a fight like the one he'd make against McGregor. Masvidal has an amazing rags to riches story from fighting in the streets of Miami and sleeping in his car to being one of the biggest stars in the biggest MMA promotion. It'd be great to see this fight take place especially if the BMF title was back up for grabs.
Conor McGregor vs. Nate Diaz III
McGregor just finished his trilogy with Dustin Poirier with two losses to Poirier the last being in July at UFC 264, but the UFC star also has another Trilogy that hasn't seen it's final act and that is with Nate DIaz. These two fighters have met twice already and are even with a win apiece. They are both coming off consecutive losses with Diaz losing to Leon Edwards at UFC 263 in June and before that a loss to Jorge Masvidal in November of 2019. This would be an amazing match up for the fans and would make the UFC oodles of money with PPV buys and ticket sales.
KEEP MMA AFICIONADO GOING!
KEEP MMA AFICIONADO AFLOAT WITH A ONE TIME TIP. WE WORK HARD TO PROVIDE QUALITY CONTENT AND WOULD APPRECIATE ANY HELP!