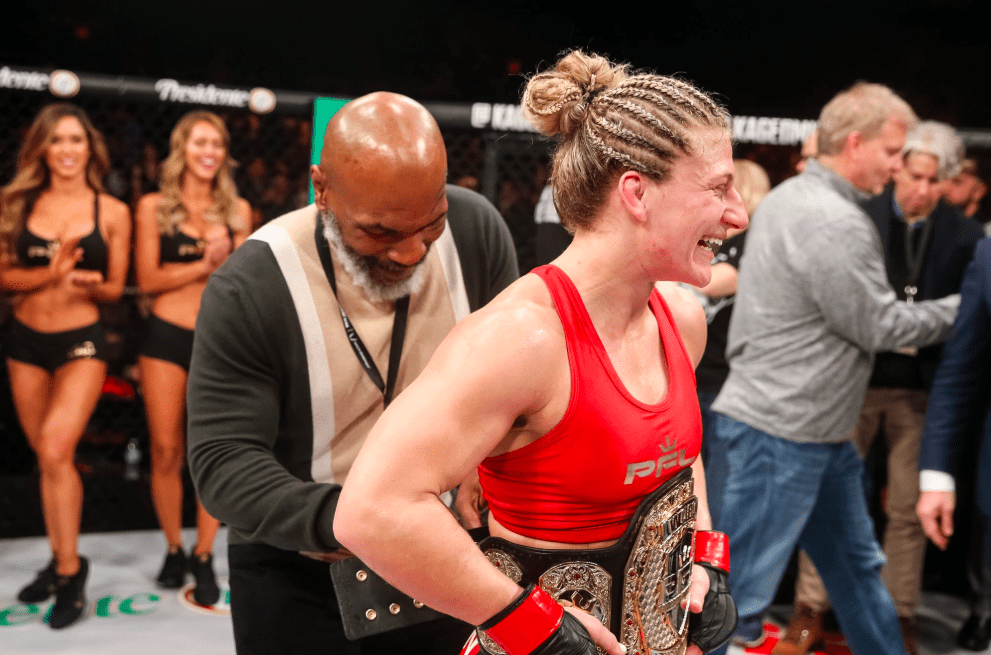 Kayla Harrison has been taking the MMA world by storm since she made her MMA debut in 2008. Harrison who boasts an impressive undefeated record is fighting on October 27th for the PFL Lightweight World Championship where she will hopefully reclaim the title which she won in 2019. Harrison carved out this division which is not seen in many promotions and hopefully she can re-secure the belt.
Harrison was born in Middletown, Ohio on July 2nd, 1990. Harrison began her Martial arts career at age 6 when she took up Judo. Her mother, who was a Black Belt, encouraged young Harrison to compete in the sport. She then began competing in the sport and started training under Daniel Doyle. Unfortunately Harrison was abused by Doyle which led her to tell another person who trained with them who told her mother who told authorities. Harrison then moved to Boston where she continued her career in the sport in 2010 she won Gold in the World Judo championships. She'd win Gold in the 2011 Pan American games. Harrison would go on to win Gold on the world's biggest stage at the 2012 London Olympic Games and again at the 2016 Rio de Janeiro games. Harrison is currently a 6th Degree Black Belt in Judo. 
Harrison announced her signing with the World Series of Fighting in 2016. They brought Harrison on as a commentator but also as a fighter. Two years later she'd make her debut at PFL 2 on June 21, 2018. Harrison would face Brittney Elkin in the Women's Lightweight division and would win via Submission (Armbar) in the first round. From there she'd fight five more times which would lead her to fight for the PFL Women's Lightweight Championship. Harrison would win the belt via Unanimous decision against Larissa Pacheco.
The 2020 season of PFL was canceled due to the Covid-19 pandemic. This led Harrison to end up fighting once for the Invicta promotion where she faced Courtney King she'd win by TKO. In 2021 PFL made a return. Harrison made a return to the organization and faced Mariana Morais. Harrison would win by TKO. Harrison would earn her spot in the finals for the PFL Lightweight Championship with two more victories in the promotion. Harrison will face Taylor Guardado for the belt on October 27th on ESPN 2 and ESPN+.
Harrison has received praise from many in the MMA world. Some think that she is the answer to one of the hottest questions in MMA of who can beat Amanda Nunes. Her peers shower her with praise Khabib said this of Harrison  "I think Kayla Harrison is like best in the world. I just think like, 'Who can beat her?' I don't think someone can beat her. I don't see nobody in PFL [beating her]…Judo like one of the hardest sports in the world. If you win twice Gold medal, you have to be like beast, you know?" high praise from the greatest Mens Lightweight of all time.
Harrison is currently training out of American Top Team in Coconut Creek Florida. She lives with her  niece Kyla and nephew Emery whom she has full custody over.
KEEP MMA AFICIONADO GOING!
KEEP MMA AFICIONADO AFLOAT WITH A ONE TIME TIP. WE WORK HARD TO PROVIDE QUALITY CONTENT AND WOULD APPRECIATE ANY HELP!