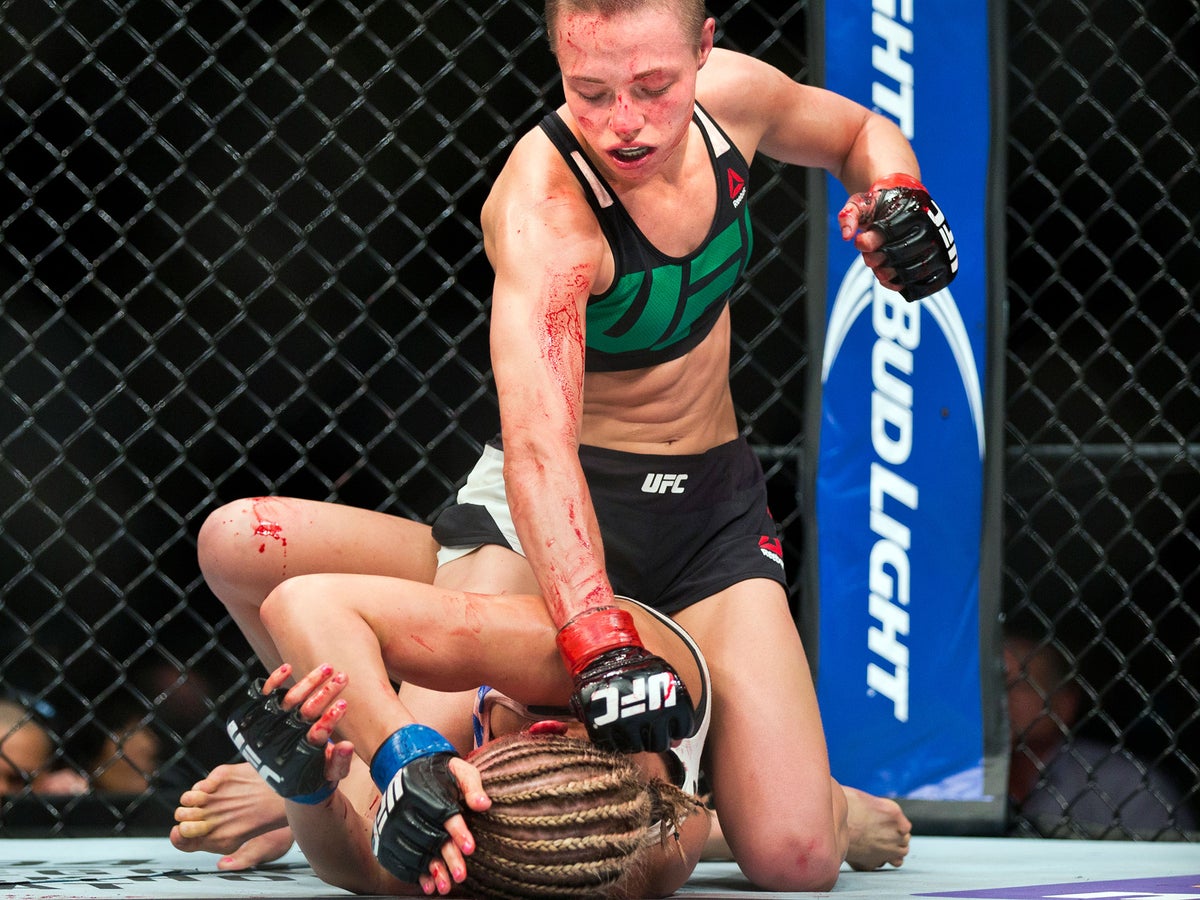 Rose Namajunas will make her return to the UFC Octagon on Saturday November 6th in Madison Square Garden in an immediate rematch to her last opponent, former Strawweight Champion, Zhang Weili. This fight is sure to be an insane matchup as Namajunas is a skilled fighter in the cage, but also because Namajunas and Weili have exchanged verbal barbs in the past. But Namajunas has the ability to back up what she says in the Octagon being a two time Strawweight Champion herself. 
Namajunas was born on June 29, 1992  in Milwaukee, Wisconsin. Namajunas is of Lithuanian origin and both her parents moved to the United States the year before Namajunas was born. Namajunas had a tough upbringing in one of Milwaukee's worst neighborhoods where she regularly witnessed violence. Namajunas got her start in Martial Arts at a young age starting with taekwondo. Namajunas would go on to study Brazilian Jiu Jitsu, Kickboxing, Karate, and MMA.  Namajunas got her nickname "Thug Rose" during her teenage years as Namajunas was their only white friend and was the toughest among them.  Namajunas would graduate from Milwaukee High School of the Arts where she ran cross country and wrestled.

After High School Namajunas started competing in MMA. She would start out with a 4-0 record which led her to Invicta FC. She'd make her professional and promotional debut at Invicta FC 4: Esparza vs. Hyatt in January of 2013 against future UFC Strawweight Emily Kagan. Namajunas secured the victory via Submission (rear-naked choke.) She'd fight twice again for the promotion including a loss to future Strawweight Tecia Torres.
In 2013 it was announced that The Ultimate Fighter Season 20 would crown the Champion of their new Strawweight division. Namajunas went into the Ultimate fighter house ranked 7th. She'd faced Alex Chambers on the show first she'd win by Submission (rear-naked choke.) She'd then face Joanne Calderwood in the quarterfinal round she'd win by Submission (kimura.) In the semifinal she'd face Randa Markos she'd win again by Submission (kimura.) This brought Namajunas to the finals of the show where she faced Carla Esparza for the Strawweight belt. Unfortunately for Namajunas Esparza would win by Submission (rear-naked choke) although she had lost she'd get back to fighting.
Namajunas would get her first fight off the show in 2015 where she faced Angela Hill at UFC 192 she'd win by Submission (rear-naked choke.) She'd then secure wins against Paige VanZant and Tecia Torres. She'd then lose a decision to Karolina Kowalkiewicz by Split Decision. In her next fight she'd win against Michelle Waterson she'd win by Submission (rear-naked choke.)
In 2017 Namajunas would get her shot at the title again. She'd face Joanna Jędrzejczyk for the Strawweight title. It was quite the fight with Namajunas winning by TKO. Namajunas would then face Jędrzejczyk again Namajunas would successfully defend her title. In her next fight Namajunas faced Jéssica Andrade; she'd unfortunately lose the title to Andrade. She'd get a rematch with Andrade at UFC 251 which she won. This would earn Namajunas another title shot at UFC 261 Namajunas faced off against Weili and won the Strawweight title back.
Namajunas will defend her Strawweight title on November 6th. It should be an awesome fight. Hopefully Namajunas defends her belt.  Namajunas' life is an amazing story of what it takes to be an awesome fighter and never giving up after tough losses.
KEEP MMA AFICIONADO GOING!
KEEP MMA AFICIONADO AFLOAT WITH A ONE TIME TIP. WE WORK HARD TO PROVIDE QUALITY CONTENT AND WOULD APPRECIATE ANY HELP!