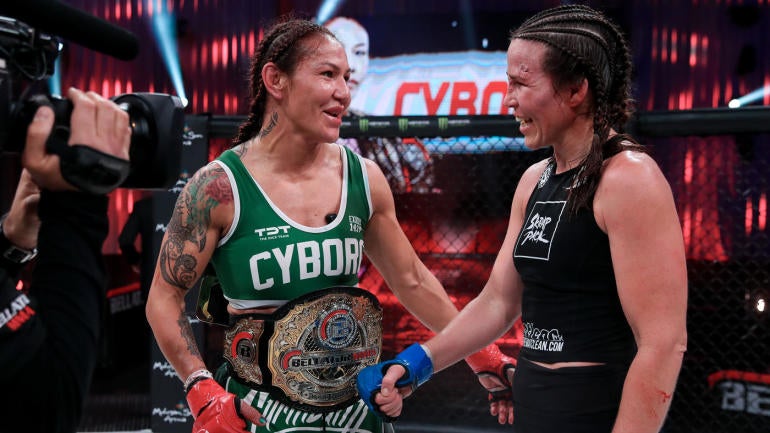 Cris 'Cyborg' Justino is one of the most dominant female Mixed Martial artists of all time. Cyborg has held titles in MMA's four major promotions Bellator, Invicta, Strikeforce, and the UFC making her the first Grandslam Champion of MMA. Cyborg has been an unstoppable force throughout her MMA career and like many of Women's MMA's biggest names one of her only losses came at the hands of Women's MMA GOAT Amanda Nunes.

Cyborg was born July 9, 1985 in Curitiba, Brazil. Her parents were divorced when Cyborg was born. Her father had alcohol problems. Cyborg started sports very young at age 12 although it wasn't in a martial art it was handball. Cyborg excelled at the sport and was offered many scholarships to attend local universities. It was while in college that she was discovered by Rudimar Fedrigo, a Chute Boxe Academy trainer. Cyborg then switched to Muay Thai.
Cyborg met her now ex-husband, an MMA fighter named Evangelista Santos on her first day at the Chute Boxe Academy. She said of her relationship and the similar style they both fight with "He totally understands what I'm going through. He's an experienced fighter and has been around a long time. I may come across something I haven't seen before and he can talk to me about it and explain it to me. And when I have a problem, he's very understanding."
Cyborg made her MMA debut against Erica Paes, she would lose by Submission (kneebar.) This would be her only loss for 13 years in her MMA career. She would move on to fight for the Storm Samurai promotion and then would move on to the Elite XC promotion. She'd win both her fights in the promotion including a win against women's MMA great Shayna Baszler by (TKO)
Cyborg would then move on to Strikeforce in 2009. Cyborg made her debut against Hitomi Akano at Strikeforce: Shamrock vs. Diaz. Cyborg would win by TKO in the third round, an impressive showing. In her next fight for the promotion Cyborg would win the inaugural Strikeforce Women's Featherweight Championship. Her opponent was Women's MMA legend and future actor and activist, Gina Carano. She'd defend her title twice more. On her third title defense in Strikeforce she'd test positive for stanozolol after the fight this win would be overturned as a No Contest.
Cyborg would then move on to Invicta the biggest promotion for women in the sport her first fight would be a title eliminator versus Fiona Muxlow. Cyborg would win and get a shot at the Invicta Featherweight title. Cyborg would win against Marloes Coenen and would seize victory by TKO. Cyborg would defend that title three times.
Cyborg would move on to the UFC and would make her debut for the promotion against Leslie Smith in a catchweight bout at UFC 198. Cyborg would win by TKO(punches) she'd go on to fight Lina Länsberg in another catchweight bout. Cyborg then would fight for the Vacant 145 title. She'd win against Tonya Evinger. She'd defend the belt two more times and would lose it to Amanda Nunes on December 29, 2018 at UFC 232. Nunes has held the belt ever since.
Nunes would fight one more time in the UFC, but would eventually move to Bellator where she would win the Featherweight title. She still holds the Bellator 145 pound strap till this day. She'll make her next title defense on November 23rd when she faces Sinead Kavanagh at Bellator 271.
KEEP MMA AFICIONADO GOING!
KEEP MMA AFICIONADO AFLOAT WITH A ONE TIME TIP. WE WORK HARD TO PROVIDE QUALITY CONTENT AND WOULD APPRECIATE ANY HELP!