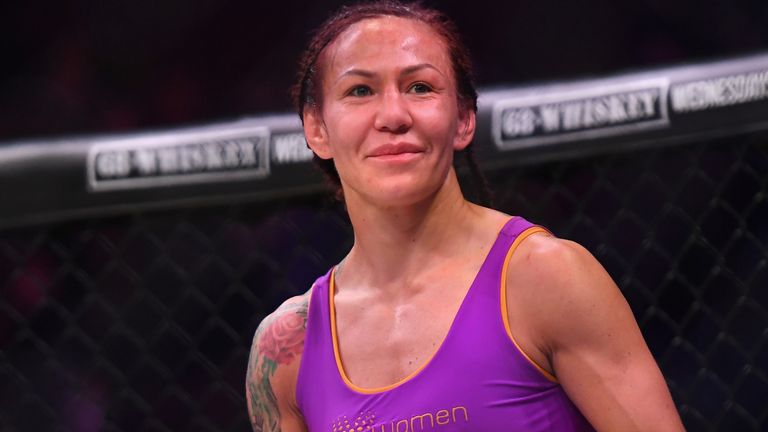 Cris 'Cyborg' Justino is one of the most dominant female Mixed Martial artists of all time. Cyborg has held titles in MMA's four major promotions Bellator, Invicta, Strikeforce, and the UFC making her the first Grandslam Champion of MMA. Cyborg has successfully defended her Bellator title three times. This last time was against Sinead Kavanagh who Cyborg made quick work of, winning by KO (punches) at Bellator 271 earlier in November. This makes one wonder what's next for Cyborg? Cyborg really has no equal in the promotion, but there are some interesting fights that could be made. 
One interesting fight that could be made would be a fight with fellow UFC veteran Cat Zingano. Zingano was on a four fight skid before she got cut by the promotion. She says she was cut over her involvement in the Halle Berry MMA themed movie, Bruised. However it seems like her losing streak was more likely the reason. Since joining Bellator Zingano has won both of her two fights with the promotion. It'd be great to see Zingano enter the Bellator cage and fight Cyborg. Zingano is one of the few fighters to beat Amanda Nunes so this could be a way for Cyborg to avenge her loss to Nunes in an odd way.
The other possible fight for Cyborg would be a match up with Free agent Kayla Harrison. Harrison is a two time PFL champion and has gold medals in Judo. It is not known if Harrison would sign with Bellator but it seems like this is an obvious choice for the Bellator matchmakers if Harrison does sign with the promotion. Harrison has an undefeated record and if she signs with Bellator she might be fighting for the title right away or maybe two fights down the line. I think noncausal MMA fans would love to see this fight. 
Cyborg has made quick work out of all the fighters she's faced in the Bellator cage but these two fights against Zingano and Harrison would be great fights and would be the only challenge since facing Amanda Nunes.  Besides her fight with Julia Budd, who Cyborg won the title from, she hasn't fought anyone that could be on her level in Bellator. We shall see!
KEEP MMA AFICIONADO GOING!
KEEP MMA AFICIONADO AFLOAT WITH A ONE TIME TIP. WE WORK HARD TO PROVIDE QUALITY CONTENT AND WOULD APPRECIATE ANY HELP!