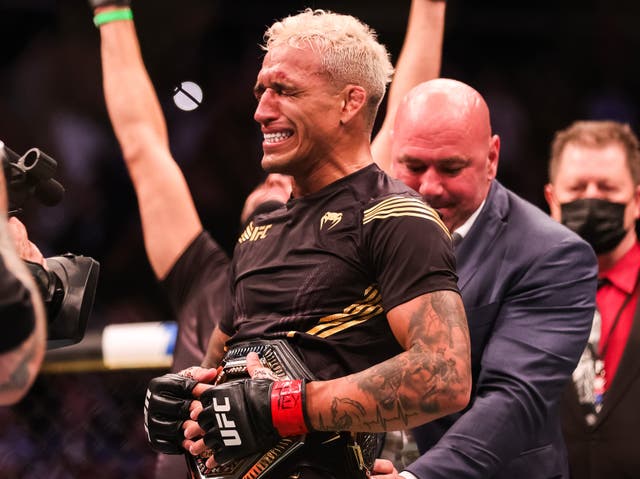 Charles Oliveira will be making his return to the UFC Octagon to make his first title defense at UFC 269 against Dustin Poirier. Oliveira who is a submission specialist with knockout power. Oliveira is a 3rd degree black belt in Brazilian Jiu-Jitsu under Ericson Cardoso and Jorge "Macaco" Patino. And he hopes to finish Dustin Poirier by Snap, Tap, or nap. But Poirier is riding his own streak so it will be interesting to see how this one shakes out. It's sure to be a great fight.
Oliveira was born in Guarujá, São Paulo, Brazil on October 17, 1989. Oliveira was born into a poor family and came from nothing and was raised in a favela which is a type of slum in Brazil which is a very rough place to grow up. As a child Oliveira started playing soccer, but unfortunately at age seven he was diagnosed with Rheumatic fever and a Heart murmur. This condition affected Oliveira who was told by doctors he might not be able to walk again. Despite this setback Oliveira continued walking and took up Martial Arts. He started out with a neighbor, but soon it would consume him; he won his first major Jiu Jitsu title as a white belt in 2003.
In 2007 Oliveira took his first MMA fight against Rui Machado for the Circuito Nacional de Vale-Tudo Amador promotion. Oliveira would win by Submission (Armbar.) Oliveira would then go pro, he'd make his pro debut against Jackson Pontes for the Predador FC Promotion. He'd fight twice more for that promotion that night with victories over Viscardi Andrade and Diego Braga both by TKO. Oliveira would fight for a few more different promotions and compiled an impressive record of 12-0. Oliveira caught the attention of the UFC.
Oliveira made his UFC debut on August 1, 2010 with a victory over Darren Elkins by Submission (armbar.) his next fight would be a win against Efrain Escudero by Submission (rear-naked choke.) After this fight Oliveira would have a rough patch in his career with his first loss to Jim Miller, then a no contest to Nik Lentz, and then a Loss to Cowboy Cerrone. He'd win his next two, but then drop a pair of fights to Frankie Edgar. He'd win six of his next 10 fights. Oliveira would then return to Lightweight where he has been unstoppable. Only losing one fight to Paul Felder. Oliveira has been on a nine fight win streak including a win in his last fight for the vacant Lightweight title against Michael Chandler at UFC 262 which he won by TKO (punches.)
Oliveira makes his return to the UFC octagon on Saturday at UFC 269 to defend his title. Oliveira does everything right so it will be interesting to see if he pulls off the victory against Poirier.