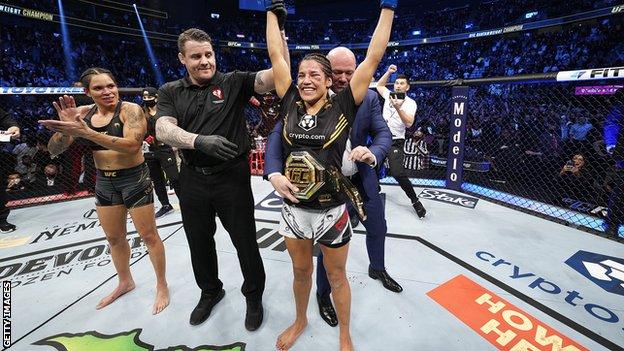 This past Saturday Night at UFC 269 Julianna Pena shocked the world. Her hard work and determination paid off and she pulled off an amazing victory. But what is next for Peña? We're not the UFC matchmakers and they definitely don't care what we think, but we definitely think that there are some amazing matchups that they could make. One possibility would be running it back with an immediate rematch with Amanda Nunes. Another fight that would be a rematch against Germaine de Randamie Peña. Then there's another rematch that I think the UFC would love to put on and that's a rematch against Valentina Schevchenko.
The MMA world was shaken up when Peña beat Amanda Nunes. The Lioness had been dethroned and one of her belts was now on the challenger. Nunes came out yesterday on her instagram and said she'd take the rematch eventually. I think fans want to see this fight. The fans love the idea that Nunes in her current form is beatable and this might sell a lot of PPV cards so it'd be interesting to see these two fighters run it back. This also gives Peña the opportunity to solidify herself as a champion making a title defense against the female G.O.A.T.
Germaine de Randamie and Peña fought in October of 2020 de Randamie got the win by Submission (Guillotine Choke.) At her post fight press conferences  Peña suggested that they run this fight back.  de Randamie is a tough opponent; her only losses in the last ten years have been to Amanda Nunes. It makes sense that de Randamie would be in the mix to get a title shot now that Nunes is not holding the title. I think fans would like to see this matchup but I don't know if it will sell PPV cards like a fight with Nunes or Shevchenko would. Remember the fight game is actually a business and they're more apt to  pick fights that would sell cards.
Peña faced Valentina Shevchenko in January of 2017. Schevchenko has since gone on to move down to Flyweight and won the title in that division and has made six successful title defenses. This would be an interesting fight because it could take place at two different weight classes.   Peña could go down to 125 and fight Shevchenko at Flyweight or Shevchenko could come back to Bantamweight and fight for the 135 pound strap. Shevchenko might be more likely to go up and fight at 135 to possibly become a two division champ if she were to beat Peña.
Peña is the new Bantamweight Champion we think she has many options open for her. Whether it be with Nunes, de Randamie, or Shevchenko we hope the best for her.