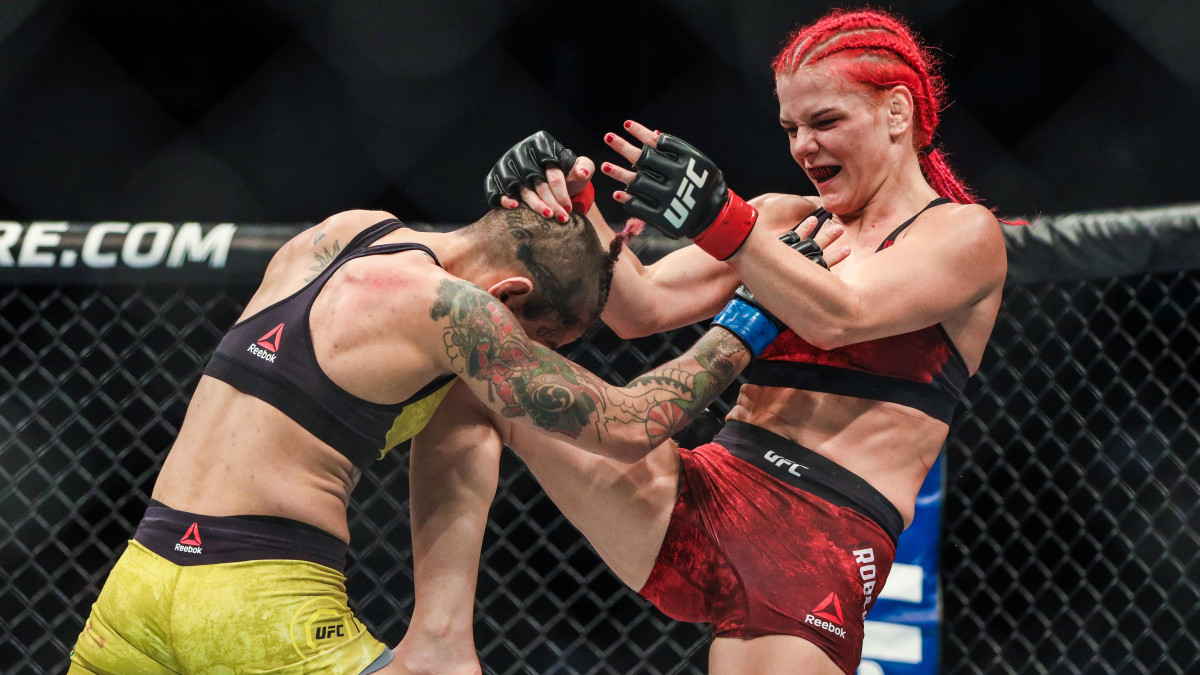 One of the best Jiu Jitsu practitioners in the UFC is Gillian Robertson. A star pupil of Din Thomas Robertson has been training Jiu Jitsu with Thomas since she was sixteen years old and it shows as she now holds the record for the most submission wins by a woman in UFC history with five. This is an amazing feat considering how many submission experts are on the UFC women's roster past and present.
Robertson was born on May 17, 1995 in Niagara Falls, Ontario, Canada. She had no experience with martial arts growing up, but started taking Cardio Kickboxing at age 15. She'd then switch to MMA training and would learn her submission game from Thomas who was a trainer at American Top Team where Robertson was taking the classes. She is a Black Belt in Jiu Jitsu under Thomas and regularly competes in both Jiu Jitsu and combat Jiu Jitsu when not in an MMA cage.
Robertson made her professional MMA debut in March of 2016 when she faced Hannah Goldy. Unfortunately for Robertson it would be a loss, but she was not discouraged as she faced Monica Medina in August of that year and would win by unanimous decision. She'd win her next fight against Miki Rogers, securing the victory via Armbar. She'd then face Cynthia Calvillo and would lose by unanimous decision. She'd then face Hannah Cifers and would win via Submission (Rear-Naked Choke) in the second round. She'd then get the call to compete in the Ultimate Fighter. She'd fight once on the show against Barb Honchak and would lose via TKO (Punches and Elbows.)
Robertson would make her official UFC debut against Emily Whitmire on December 1, 2017. Robertson would win her debut, via Submission (Armbar.) She'd then face Molly McCann and would secure the win via Technical Submission (Rear-Naked Choke.) She'd then face Mayra Bueno Silva unfortunately for Robertson this would be her first loss in the UFC she'd lose by Submission (Ambar) in round one. She'd win her next two before taking another loss to Maycee Barber by TKO.
Robertson would then get back to her winning ways, securing two victories against Cortney Casey via Submission (Rear-Naked Choke) and against Poliana Botelho via unanimous decision. She'd then drop two in a row before getting another win at UFC 269 earlier this month against Priscila Cachoeira via Submission (Rear-Naked Choke) securing the victory even after receiving a nasty eye gouge while grappling.
Robertson is an exciting fighter to watch and hopefully she can build on the momentum off the last fight was a nice win. We hope we see her continued success for years to come.