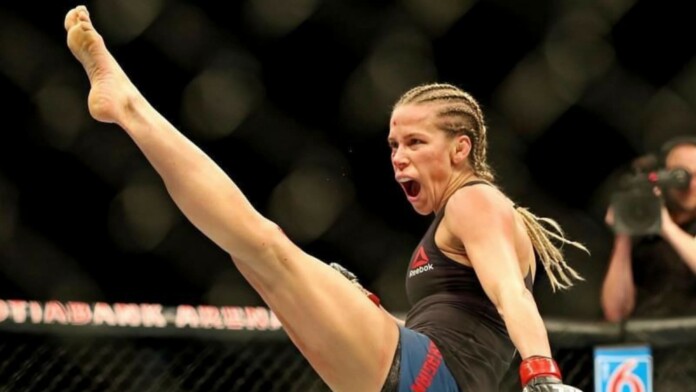 Katlyn Chookagian fought her way to her tenth win in the UFC when she fought Jennifer Maia on the 15th of January. She now holds a 10-4 record in The UFC and an overall record of 17-4 and she is now a free agent. Chookagian who fought for the UFC Flyweight title is currently ranked second in the division, which leads many to ask why Chookagian hasn't been re-signed. Many think it's because when she wins she almost always wins by decision, but she does keep winning so what's the hold up? We're going to look at how Chookagaian got to this point because we enjoy watching her fight.
Chookagian was born December 28, 1988 in Quakertown, Pennsylvania. She would start her journey into martial arts at age 4 when she started taking Karate. She'd attend Quakertown Community Senior High School and would graduate. Chookagian would go on to attend Fairleigh Dickinson University where she would earn her degree in Business Management and Marketing. Chookagian Would work odd jobs including being a bartender before turning her sites on MMA first as an armature in 2012 and then turning pro in 2014. She currently holds a Brown Belt in Brazilian Jiu Jitsu under Renzo Gracie.
Chookagian made her pro MMA debut in June of 2014 when she would face off against Rebecca Heintzman for Cage Fury FC. She would win via unanimous decision. She'd then face Brigitte Narcisse for the World Series of Fighting Promotion she would win by Knockout (Knees.) She'd then fight Linn Wennergren PMMAL Hungarian Fight Championship 9, she'd secure the win by Unanimous Decision. She'd then face Melinda Fábián for the same promotion winning by Submission (Armbar.) Sijara Eubanks would be her next opponent Chookagian would beat her by Unanimous decision. Eubanks would later Corner for Chookagian in her later fights. She'd win her next two fights including championship bouts for the Cage Fury Flyweight title and Bantamweight title. She'd then get the call to fight for the UFC.
Chookagian made her UFC debut against Lauren Murphy in July of 2016 She'd win by unanimous decision. She'd then face Liz Carmouche losing by split decision, her first loss in her career. She'd then win her next three fights against Irene Aldana, Mara Romero Borella, and Alexis Davis. She'd then face Jessica Eye losing by Split Decision. She'd then score victories against Joanne Calderwood and Jennifer Maia earning her a title fight against women's Flyweight GOAT Valentina Schevchenko, Schevchenko would win the fight by TKO (Elbows and Punches) in the third round. She'd then face Schevchenko's sister Antonina winning by Unanimous decision. She'd then drop a fight to Jéssica Andrade. She'd Win her next three fights against Cynthia Calvillo, Viviane Araújo, and Jennifer Maia.
Currently Chookagian is a free agent and no one knows who she'll be facing next or in what promotion. We hope to see her in the Octagon soon.