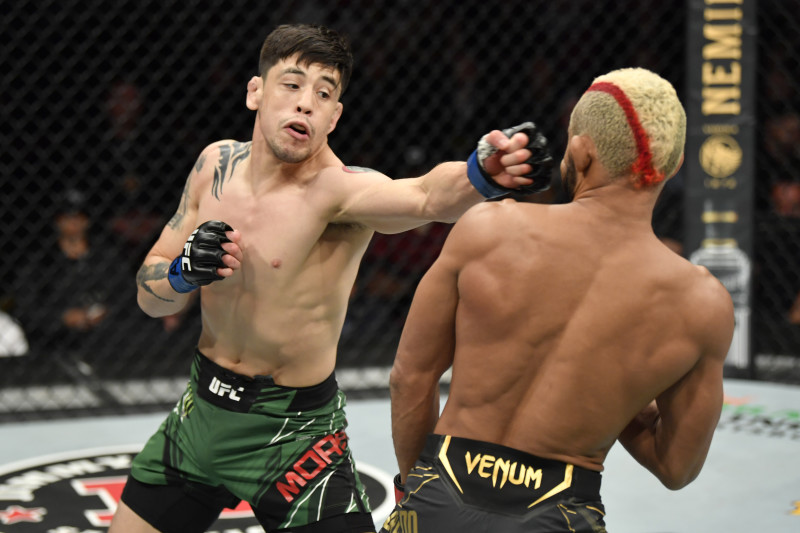 Brandon Moreno lost his belt at UFC 270, but he did make history last year becoming the first Mexican UFC Champion in any weight class. Moreno made a valiant effort trying to retain his belt and some said he may have won the fight and the Judges were wrong. Moreno has a heart of gold and we think their a great case for a fourth fight between Moreno and Deiveson Figueiredo
Moreno was born on December 7, 1993 in Tijuana Mexico. His family owned a piñata business. Moreno Decided at age 12 that he needed a change in his life and his mother signed him up for an MMA gym to help him with this mission. Moreno wanted to be a lawyer, but loved training MMA so much that he decided that this would be something he would pursue full time, and he did just that.
Moreno made his MMA debut against Atiq Jihad. He'd win the fight by Submission (Triangle Choke) in April of 2011. He'd then take a loss against Marco Beristain Castillo in June of that same year. Moreno would then face Luis Garcia in January 2012 winning by Submission (Armbar) he'd then fight Ron Scolesdang losing by Unanimous decision moving his record to 2-2. He'd win his next four fights before fighting C.J. Soliven for the vacant WFF Flyweight Championship. He'd win the fight and thus the title by Submission (Rear-naked Choke.) He'd defend that belt three times. Before being cast on The Ultimate Fighter.
On the show Moreno lost to Alexandre Pantoja by Submission (Rear-naked Choke.) He made his real UFC debut on October 1, 2016 when he faced off against Louis Smolka winning by Submission (Guillotine Choke.) He'd then face Ryan Benoit who he'd beat by Split Decision. He'd get his third victory with the promotion when he faced Dustin Ortiz winning by Technical Submission (rear-naked choke.) He'd then drop two in a row to Sergio Pettis and Alexandre Pantoja. He'd then score a victory against Maikel Pérez winning by TKO (Punches.)
The next fight for Moreno was a Draw against Askar Askarov. He'd then win three in a row landing him in a title fight against Deiveson Figueiredo. Figueiredo was deducted one point in round three due to repeated groin strikes and the fight ended in a draw. He'd then fight Figueiredo again at UFC 263 which he would win by Submission (Rear-naked Choke) becoming the First Mexican UFC Champion. The UFC would give Figueiredo an immediate rematch and Unfortunately Moreno would lose the Belt to Figueiredo. Now they might fight a fourth fight to finish this odd series of events.