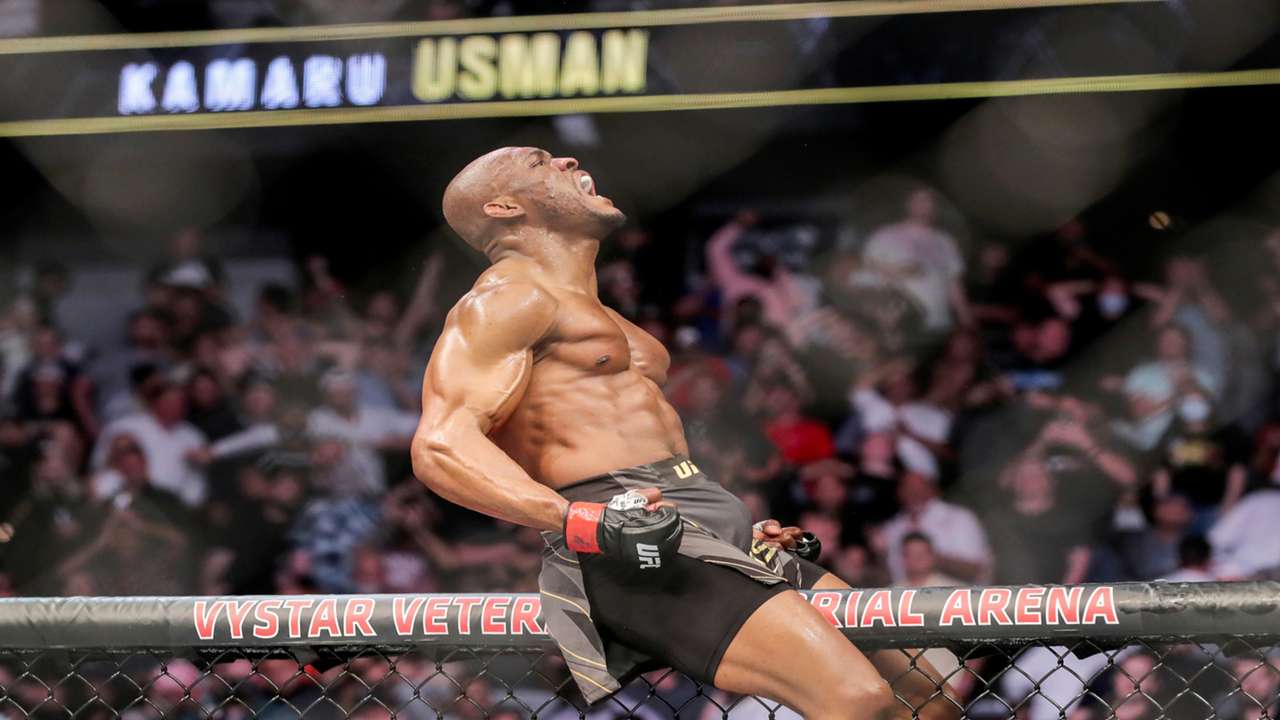 Kamaru Usman will face Colby Covington at UFC 268 in a rematch of their 2019 fight which was Usman's first title defense. Usman will again be defending the 170 pound title at UFC 268 the world will be watching as these two great wrestlers face off in the UFC Octagon at Madison Square Garden. But what makes the welterweight champion and #1 pound for pound ranked fighter is his story and how he got to the UFC. 
Usman was born May 11, 1987 in Auchi, Nigeria to his parents who were both of Nigerian descent. His father was in the Nigerian army and his mother was a teacher. Usman's father would eventually become a Pharmacist and would move his family to the US when Usman was eight years old. This would get Usman an American education.

During his sophomore year Usman would begin wrestling at Bowie High School in Arlington, Texas. It would be a start of something special for young Usman who ended up with a 53–3 record and would place third at the Texas State Wrestling Championships. Usman who is the same age as Jon Jones would wrestle besides the future Light Heavyweight champion at the Senior National Tournament.
 Usman would go on to wrestle in college at William Penn University. Usman would later transfer to the University of Nebraska at Kearney. Usman would place top 3 in wrestling in the country in all his years at UNK. Usman would become a NCAA Division II national champion at 174 pounds in 2010 in Omaha. After College Usman decided to pursue Olympic Wrestling but decided not to take part after injuries derailed his dreams.
This led Usman to pursue MMA. In 2011 Usman made his first step into the MMA world when he served as the wrestling coach for Team Miller during The Ultimate Fighter season fourteen. Usman made his professional MMA debut in November of 2012 fighting for the RFA promotion he won by TKO (punches.) Usman would lose his next fight, and would fight for more times in smaller promotions and would then make his way to the UFC. He'd end up in the UFC via The Ultimate Fighter. Usman would win the show and it would be his first win in the promotion.
After The Ultimate Fighter, Usman went on a serious run, dominating the Welterweight Division. Beating fighters like Leon Edwards, Demian Maia, and Rafael dos Anjos. This would earn Usman a title shot, where he would face defending Welterweight Champion, Tyron Woodley. Usman would win by Unanimous decision. Since then Usman has defended the Welterweight Championship 4 times once against Colby Covington and Gilbert Burns and twice against Jorge Masvidal. Usman will be facing Colby Covington in a rematch at Madison Square Garden as the main event of UFC 268.
What makes Usman's story all the more amazing is that when Usman was doing all of these amazing things in the cage, he had turmoil at home. His father was in Jail for most of his run due to a health care fraud and money laundering scheme. Usman's father is now out of jail and has seen his son fight. Usman recently bought his parents a nice home for them to retire in.
We shall see if Usman retains his title after UFC 268 it is sure to be a great fight, and it should be interesting because Usman and Covington don't really like each other which adds so much drama to the fight. We shall see!
KEEP MMA AFICIONADO GOING!
KEEP MMA AFICIONADO AFLOAT WITH A ONE TIME TIP. WE WORK HARD TO PROVIDE QUALITY CONTENT AND WOULD APPRECIATE ANY HELP!